On Saturday, 27 December 2003, we lost another good man.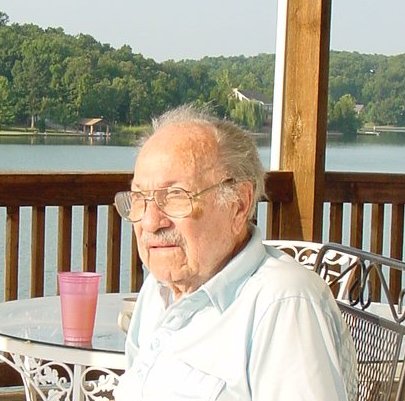 Dr. James E. Hombs, 1915 - 2003
Dr. James E. Hombs D.O., 88 years old, died December 27, 2003 at the home of his daughter in De Soto, Missouri, after a recent fall and a bout with pneumonia. He is survived by his daughter, Margaret Ann, her husband, Les, and two grandsons, Kirk and Mitchell, all of De Soto, Missouri. His wife, Helen, died in 1977.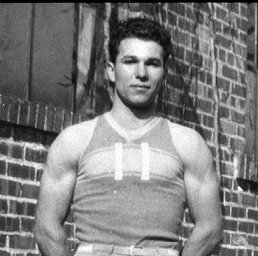 Doc as a young man - about 1932
Doc was born August 20, 1915 and raised in the tiny town of Glenwood, Missouri. He attended Glenwood High School where he (as a freshman in 1930) was on the basketball team, track team, in the orchestra, member of the Glee Club and was voted shyest in the school. He graduated in 1933, then attended the Teachers College in Kirksville, Missouri. He entered the American School of Osteopathy (now the Kirksville College of Osteopathic Medicine)also in Kirksville in February 1937. After graduation in 1941 he moved to Glasgow, Missouri to open his medical practice. Doc continued his practice until retirement in 1992, providing the Glasgow area with dedicated medical care for 51 years. For most of that time, he was the only doctor for miles around. Folks in Glasgow depended on him and many owed their lives to his skill. As far as Glasgow was concerned, many thought Doc walked on water. It was reliably reported that no one gave Doc a bad time.

Doc Hombs was my uncle on my mother's side. He was the uncle my mother warned me about! Doc was a gun collector (my mother didn't like guns) and he enjoyed an occasional drink (my mother also didn't like alcohol or people who drank alcohol....), and was always ready with an off-color joke (my mother didn't like off-color jokes - until she was older). Doc gave me my first toy guns at Christmas - over my mother's objections!

As a youngster, I recall visits to his home where he introduced me to exotic wonders such as a Chicago Palm Pistol, a knife pistol, a Kentucky Rifle with the butt rotted away where it had stood for years in the corner of a Missouri barn, and a bushel basket full of old Colt percussion revolvers (Wow!) he had taken as trade for medical services! He showed me the first Luger pistol I had ever seen! Was I impressed!! This might explain why I have a few Lugers today.....

Doc lived a very full and interesting life. From humble beginnings, Doc became an athlete, got an education, and spent his life in service to his fellow man. He never lost his sense of humor and always had a joke to tell or a practical joke to pull on the unsuspecting..... Besides collecting guns, he collected arrow heads, was a life-long hunter, had hunting dogs, and was a world traveler. In other words, an all-round good guy and a wonderful uncle.

Doc, being the only doctor for miles, naturally had a close relationship with the Glasgow Police. I previously mentioned his sense of humor - and that he was a practical joker. I heard about an incident involving a quiet sunday and a certain individual on top of a downtown building (Doc's Office) with a slingshot and a supply of fireworks (torpedos - which explode on impact). It seems this individual would use the slingshot to cause a small explosion at one end of downtown - which the police officer rushed to investigate. No sooner would he arrive, then another explosion would occur at the other end of the block - which he would again rush to investigate. I understand this police exercise came to a sudden halt when a torpedo accidently expoded on a large metal sign right next to the rooftop. For some reason, the downtown area again became very quiet......

As I was growing up, my Dad and my Uncle were my heros. To me, as a youngster, they were larger than life.... Some things never change.

So Long, Doc, I miss you.....

Those who have seen the movie "Second-Hand Lions" will understand.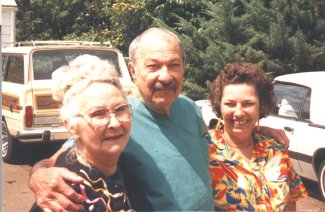 Doc's favorite quotation, from Omar Khayyam, The Rubaiyat

"The Moving Finger writes; and having writ,
Moves on; nor all your Piety nor Wit
Shall lure it back to cancel half a Line,
Nor all your Tears wash out a Word of it."