A PERSIAN PRESENTATION LUGER
In memory of Mohammad Reza Shah Pahlavi (Shah of Iran) and U.S. Major General Vernon Evans.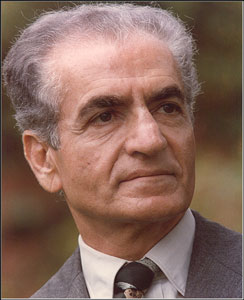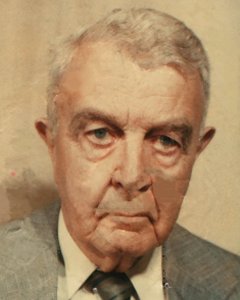 Mohammad Reza Shah Pahlavi ------ Major General Vernon Evans
Cuernavaca, Mexico, August, 1979 ------ Washington, D.C. October, 1976
Born October 27, 1919 - Died July 21, 1980 -------- Born August 21, 1893 - Died November 4, 1987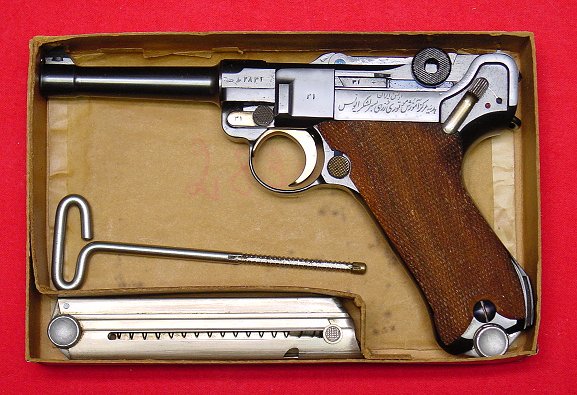 This pistol was ordered from Mauser on January 20, 1936 by General Ism Khan from the Iranian Embassy in Bern Switzerland. 3000 Parabellum Pistols in 9mm were ordered with a 98mm barrels and accessories. Price RM 59 each. FOB Hamburg, Germany. Packed for sea shipment. 3 month delivery time. This example was one of the last delivered and was test fired in Oberndorf on June 18, 1936.


This Persian contract Luger - new in the original box with factory target, was presented by the Shah to General Evans in 1950 while the General was Chief of the U.S. Military Mission to the Iranian Army.
Engraved (in Farsi) on the side is a personalized inscription from the Iranian Army Center of Motorized and Armored Education to General Evans.

The Iranian Armor School was founded in 1950 and patterned after the United States Army Armor Center. The Chief of the Military Mission was advisor to the Iranian Minister of War, and worked closely with the Commander in Chief (The Shah). We must conclude that General Evans was instrumental in establishing the school.

Any additional information would be greatly appreciated.

General Evans was born in Detroit, Michigan on 21 August 1893, and died at Bethesda Naval Hospital, Maryland, on 4 November 1987, at the age of 94. He was buried in Arlington National Cemetery, with full military honors, on 9 November 1987 beside his late wife (Dorothy Louise Sylran), in the lot next to that of his father (Col. William Pierce Evans [West Point Class of 1878]) and mother (Grace Vernon).



General Evans (pictured here from about 1942) entered West Point Military Academy on 14 June, 1911, at the age of seventeen years, and graduated in 1915, along with General Dwight D. Eisenhower and General Omar Bradley (both 5 star generals). The class of 1915 was known as "The Class the Stars Fell On". Out of 164 members of the class, 59 were promoted to general - more than any other class. General Evans ranked 55 out of 164, while Ike ranked 61, and Bradly ranked 44.

General Evans was commissioned as Second Lieutenant of Infantry 12 June 1915.
Commanding officer of 1st Machine Gun Battalion, 1st Division in AEF (1918).
Instructor at the Infantry School, Ft. Benning, GA, 1920-1923.

Entered the Command and General Staff School in Ft. Leavenworth, Kansas, in 1926, along with Dwight D. Eisenhower. Out of a class of 245, Ike graduated first in the class, and General Evans was a Distinguished Graduate.

Both Ike and General Evans entered the Army War College in Washington, D.C., on 27 August 1927, then graduated on 30 June 1928.

Executive officer of 19th Brigade in the Canal Zone 1928-1931.
Instructor at the Infantry School 1931-1935.
Assistant professor of military science and tactics at Georgetown University 1935-1938.
Graduated from the Infantry School Tank Course in 1939.
Chief of the Infantry Tank School at Fort Benning 1940-1941.
Commanding officer of 81st Tank Regiment, 5th Armored Division September 1941-July 1942.
Combat Command Commander, 13th Armored Division 1942-1943.
Promoted to Brigadier General in September 1942.

Assigned to the China-Burma-India (CBI) Theater of Operations in 1943 under General Joseph W. (Vinegar Joe) Stilwell until General Stilwell was recalled in October 1944.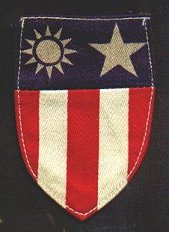 Deputy chief of staff, China-Burma-India Theater of Operations 1943-1944.
Chief of staff, India-Burma Theater of Operations 1944-1945 (Received Distinguished Service Medal for this service)

Promoted to Major General in January 1945.
In February 1946, he became Theater commander (China-Burma-India Theater) until it's inactivation in May, 1946, then assigned to War Department Budget Division in Washington, D.C.
In July, 1946, transferred to the office of the Army Comptroller in Washington.
On June 10, 1948, appointed inspector general of the European Command at Berlin, Germany.

From September, 1948 to June, 1951, he was Chief of the U.S. Military Mission with the Iranian Army.

In November, 1952, he was appointed as a member of the Army Personnel Board, Office of the Secretary of the Army. Retired as Major General in January 1953. His decorations included the Distinguished Service Medal (for service in the China-Burma-India Theater of Operations.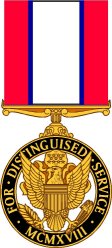 My sincere thanks to:
Mr. William Hansen, Librarian, U.S. Armor School Library, Ft. Knox, KY,
Ms. Sheila Biles, Library Technician, United States Military Academy, West Point, NY,
and many others for their assistance in my search for information on General Evans.