Waffenstadt Suhl
The famous gunmaking center of Suhl, Germany
Suhl Website
Located in the beautiful green hills of Thüringia. Original home to many well-known gunmakers.
According to a local joke, "Suhl is so close to the edge of the world you can see Zella-Mehlis".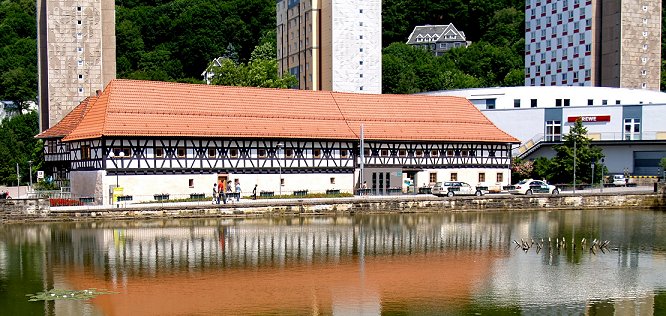 Suhl Firearms Museum
Suhl Firearms Museum Website
Completely remodeled and re-opened in June, 2008.
Located in the old Malzhaus (Malthouse; built 1663),
it's one of the oldest and most attractive half-timbered buildings in town.
The original Simson Villa (famous for Simson Luger Pistols),
is located in the upper right of this picture.


Suhl is famous for being the original home to many famous gunmakers, including:
Merkel GmbH, (still located in Suhl)
Ziegenhahn, (Now Ziegenhahn & Son oHG located in Zella-Mehlis, Germany
J.P. Sauer & Sohn, (Now Sauer & Sohn, located in Eckernförde, Germany)
Heinrich Krieghoff, (Now located in Ulm, Germany)
&nbsp &nbsp Krieghoff International (USA),
&nbsp &nbsp H. Krieghoff GmbH (Ulm)
Heym,
Simson & Co.,
BSW,
Gustloff-Werke,
Simson (DDR),
Ernst Thälmann Werke (DDR),
Theodor Bergmann,
C. G. Haenel,
Gebhard Merkel,
Gebruder Merkel,
Franz. Jäger & Co.,
Nimrod,
Paul Meffert,
Schilling,
Greifelt & Schlegelmilch,
Fritz Kieß & Co.,
Gebruder Adamy,
H.D. Lindner,
Eduard Kettner,
August Menz,
Bernhard Merkel,
Oskar Merkel & Co.,
Emil Kerner,
August Schüler,
Walter Munk - Gunmakers (Formerly Franz Neumann),
Gebruder Walter Rempt,
Willi Barhold,
Alfred Funk,
A. W. Wolf,
Immanuel Meffert,
Thieme & Schlegelmilch,
Johann Wilhelm Spangenberg,
Wilhelm Gottlieb Spangenberg,
and many others.