A GENERAL OFFICERS PISTOL
In memory of Turkish General Fevzi UÇANER and USAF General Benjamin J. Webster.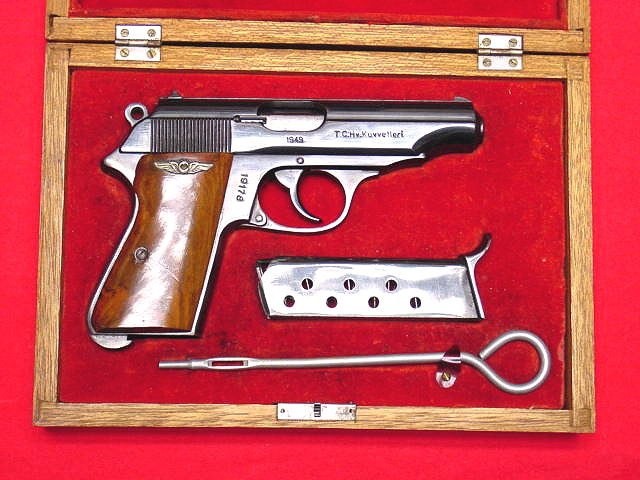 Turkish Kirikkale Air Force pistol in the original presentation case.

This pistol belonged to General Fevzi UÇANER, Chief of the Turkish Air Force.
(Note miniature Turkish Pilot Wings inlaid in the special wood grips.)
Presented by General UÇANER to U.S.A.F. General Benjamin J. Webster, Chief, Air Force Group, Joint American Military Mission for Aid to Turkey. The presentation took place in Ankara, during 1954 or 1955, when General Webster became qualified to fly Turkish jet aircraft, and was awarded Turkish Pilot Wings.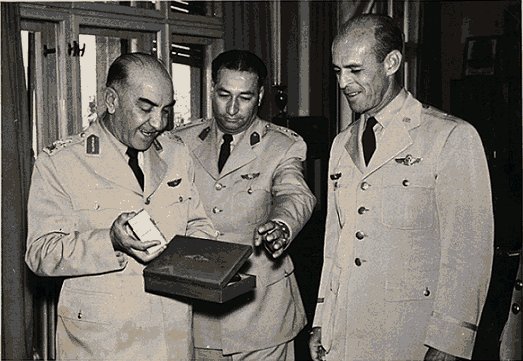 The original photograph of General UÇANER presenting the pistol to General Webster. Note the inlaid Turkish pilot wings in the case lid, and both U.S. and Turkish Pilot Wings on General Webster's uniform.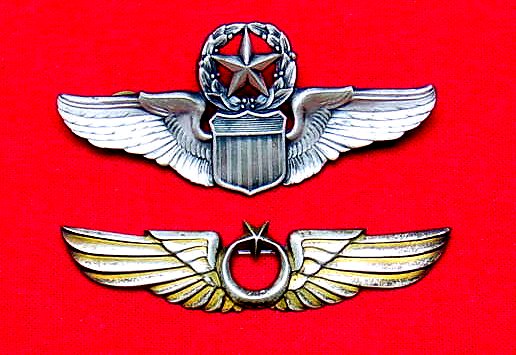 General Webster's Pilots Wings - both U.S. (Command Pilot) and Turkish - shown in the presentation picture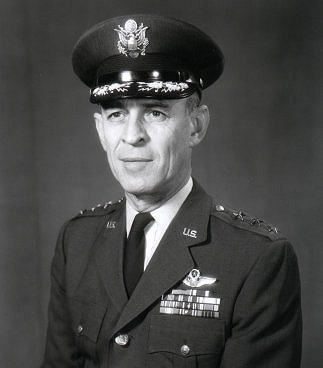 LIEUTENANT GENERAL BENJAMIN J. WEBSTER
Born April 4, 1911, Retired Nov. 1, 1966, Died Jan. 23, 1987.

General Webster's wife, Bobbie, has a statement, appropriately framed, which reads as follows:

"The United States of America honors the memory of Benjamin J. Webster" Ronald Regan
President of the United States

Perhaps this webpage will play some small role in keeping General Webster's memory alive.

Benjamin Jepson Webster (Benny) was born in New Haven, Conn., in 1911, and moved with his family to Hawaii in 1914.
General Webster's father, Ernest C. Webster, became dean of the University of Hawaii, where Webster Hall was later 
named after him.  General Webster was appointed to the U.S. Military Academy (West Point) from Hawaii in 1928, 
graduated in the Class of 1932 and was commissioned a second lieutenant in the Coast Artillery Corps.

Lieutenant Webster's initial assignment was with the 64th Coast Artillery in Hawaii, where he served until entering 
pilot training at Randolph Field, Texas, in the fall of 1932. He received his pilot wings at Kelly Field in 1933 and 
later was rated as a command pilot. 

After graduation from flying school, Lieutenant Webster returned home to Hawaii to serve with the 6th Pursuit 
Squadron. In June of 1937 he began a three year tour as a flying instructor at the Advanced Flying School, Kelly 
Field, Texas, where he met Barbara Ann Adams (Bobbie).  After Bobby graduated from Randolph-Macon Women's 
College in Lynchburg, Virginia, in June, 1938, she went immediately to West Point with Benny for their wedding 
in the Cadet Chapel.    

The Summer of 1940 found Captain Webster returning to West Point to serve as a physics instructor until 1942.   
Pearl Harbor changed everything, and during February 1942, Lieutenant Colonel Webster was named Director of Flying 
and Base Operations Officer at Stewart Field, N.Y. He subsequently served there as director of training until 
departing for overseas in the fall of 1943.   Cadets choosing the Army Air Corps started the new flight training 
course under his command.

Promotion and and responsibilities advanced rapidly.  Upon arrival in the European Theater in December 1943, Colonel 
Webster was named executive officer of the 67th Fighter Wing, Eighth Air Force. He became acting chief of staff, 
VIII Fighter Command in August 1944 and two months later assumed command of the VIII Fighter Command.  He flew 10 
combat missions as a fighter pilot in P-38's, P-47's and P-51's, escorting B-17's and B-24's back from targets in 
Europe.  Col. Webster was awarded the Legion of Merit, the Air Medal (40 hours of combat missions), the Croix de 
Guerre with Palm, and the European Theater ribbon with six battle stars. 

In June 1945, Colonel Webster returned to the United States and assumed command of Stewart Field N.Y., which he 
commanded until August 1947 at which time he entered the Air War College, Maxwell Field, Ala. He graduated the 
following June and was named assistant chief of staff for operations of the 7th Air Division in Hawaii, becoming 
director of operations and training of the Pacific Air Command there three months later. 

Colonel Webster was ordered to Air Force Headquarters, Washington, D.C., in July 1949, and designated deputy 
director of program standards and cost control in the Office of the Comptroller. He was subsequently named director 
of management analysis. 

After attending the National War College in 1952, Brigadier General Webster was named chief of the Air Force Group, 
Joint American Military Mission for Aid to Turkey (JAMMAT), with duty station in Ankara, Turkey.  During this tour, 
General Webster became qualified to fly Turkish jets, and was awarded Turkish pilot wings by the Chief of the Turkish 
Air Force, General Fevzi UÇANER.  As a token of friendship, General UCANNER also presented his personal Kirikkale 
pistol to General Webster in the same ceremony.

On Sept. 1, 1955, he assumed command of the 30th Air Division (Defense) at Willow Run Airport, Mich., and on Jan. 15, 
1957, assumed additional duty as commander of the 30th Continental Air Defense Division, also at Willow Run. 

In August 1957, Major General Webster was ordered to the Pentagon again, this time to serve as Air Force Director of 
Programs, Deputy Chief of Staff, Plans and Programs, Headquarters U.S. Air Force.  In July 1960 General Webster was 
assigned to Headquarters Air Defense Command Ent Air Force Base, Colorado Springs, Colo., as deputy chief of staff 
for operations. The following year on June 8, 1961, he became chief of staff, Air Defense Command. 

On Jan. 1, 1964, General Webster was promoted to the rank of lieutenant general and assigned as commander of Allied 
Air Forces, Southern Europe (AIRSOUTH), the SHAPE command in Naples, Italy.

After 34 years of outstanding service, Lieutenant General Webster retired from active duty on November 1, 1966, and 
was offered the position of adjutant general of the State of Hawaii - a Major General's billet.  Hawaiian newspapers 
stated, "Webster apparently is the most successful Island military man in history......".  For the next seven years, 
until 1973, General Webster commanded the Hawaii National Guard.  

General Webster and Bobbie then retired to Colorado Springs, Colorado.  He died on January 23, 1987 in Colorado 
Springs, where he is interred in the Air Force Academy Cemetery.

To repeat President Reagan's statement, 
"The United States of America honors the memory of Benjamin J. Webster"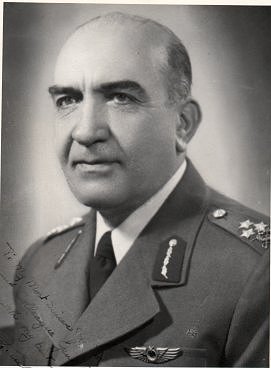 General Fevzi UÇANER
Chief, Turkish Air Force
Born in 1900, Retired in 1957, Died May 18, 1963.


General UÇANER was born in 1900 at Erzincan, Turkey, son of Yusuf and his wife,  Hanife.  He completed his primary 
and high school education in Erzincan, and entered the Erzincan Military High School in 1915.  Because of World 
War I, he was posted to the Caucasus front on July 30, 1917, as an Officer Candidate - before graduation.   

He participated in all the battles on the Caucasus front, participated in the Sarikamis Operation, and participated 
in some battles of the Palestine front. He was awarded the Ottoman War Medal, the Ottoman Silver Imtiyaz Medal, the 
Ottoman Silver Liyakat Medal and the German Iron Cross due to his highly successful service at these fronts.

Served as 1st Lieutenant and as a Captain during the Turkish Independence War. Was awarded the Istiklal Madalyasi 
for his distinguished service in the Independence War.

Transferred to army aviation towards the end of 1922. Received initial aviation training at Izmir, then went to 
France for further training. Upon his return to Turkey served both as an instructor and a pilot with various 
aviation units. Entered the War Academy in 1929 and promoted to Major. Graduated from the War Academy in 1932. 
Promoted to Lieutenant Colonel in 1935. Appointed as C.O. of Air War Academy in 1939 and promoted to Colonel in 
the same year. Promoted to Brigadier General in 1944, to Major General in 1945 and to Lieutenant General in 1948.

Appointed as the commander of Turkish Air Forces (TuAF) in 1953 and promoted to General (4 star) in 1955. Retired 
as the commander of TuAF in 1957.  General UCANNER was Fluent in English and French.

After his retirement in 1957, he became Turkish Minister of Communications in the 1958 Cabinet.

General UÇANER died May 18, 1963.


Tabulated Service Record:
30.07.1917                    Officer Candidate
30.07.1917 - 25.02.1918 Caucasus Front, 5th Army, 148th Regiment, C.O. of Machine Gun Company
25.02.1918                    Promoted to 2nd Lieutenant
25.02.1918 - 10.11.1920 12th Corps, 132nd Regiment, C.O. of Machine Gun Company
30.08.1920                    Promoted to 1st Lieutenant
10.11.1920 - 31.08.1922 Adjutant of 12th Corps., adjutant of the 5th Group
30.08.1922                    Promoted to Captain
31.08.1922 - 02.12.1922 Adjutant of Cavalry Corps, adjutant of 1st Army.
02.12.1922-  01.05.1924 Izmir Aviation School
01.05.1924 - 01.08.1925 Aviation training in France.
05.08.1925 - 27.10.1927 Instructor at Aviation School and pilot with 3rd Aircraft Company
27.10.1927 - 30.06.1928 Pilot with 29th Aircraft Company of 3rd Aircraft Battalion at Diyarbakir.
30.06.1928 - 01.04.1929 C.O. of 42nd Aircraft Company of 1st Aircraft Battalion at Eskisehir
15.04.1929 - 15.08.1932 Education at War Academy
30.08.1929                    Promoted to Major
13.10.1932 - 29.12.1932 Assistant C.O. of 2nd Aircraft Battalion at Diyarbakir
30.12.1932 - 23.08.1933 XVth Branch of General Chief of Staff
17.09.1933 - 14.11.1933 C.O. of 6th Aircraft Battalion of 3rd Aircraft Regiment
14.11.1933 - 16.12.1934 C.O. of 5th Aircraft Battalion of 3rd Aircraft Regiment
19.12.1934 - 17.10.1935 Assistant C.O. of 2nd Aircraft Regiment
30.08.1935                    Promoted to Lieutenant Colonel
17.10.1935 - 10.03.1939 Acting C.O. of 2nd Aircraft Regiment
15.03.1939 - 13.05.1941 C.O. of Air War Academy
30.08.1939                    Promoted to Colonel
13.05.1941 - 12.08.1941 Chief of Staff Officer at the Undersecretariat of Aviation
15.08.1941 - 25.08.1943 C.O. of 3rd Aircraft Regiment
25.08.1943 - 28.08.1944 C.O. of 2nd Aircraft Brigade
30.08.1944                    Promoted to Brigadier General
28.08.1944 - 30.08.1945 Acting C.O. of 2nd Air Division
30.08.1945                    Promoted to Major General
30.08.1945 - 27.04.1947 C.O. of 2nd Air Division
28.04.1947 - 01.07.1949 Chief of Staff for Aviation at the Office of General Staff
01.07.1949 - 29.06.1950 Chief of Staff for Aviation at TuAF Command
30.08.1948                    Promoted to Lieutenant General
29.06.1950 - 08.09.1952 Chief of Supplies at the Office of General Staff
09.09.1952 - 18.04.1953 Undersecretary to the Minister of National Defense
21.05.1953 - 23.09.1957 C.O. of Turkish Air Forces
30.08.1955                    Promoted to General (4 star)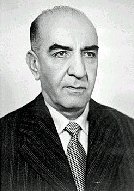 Fevzi UÇANER
Turkish Minister of Communications in the 1958 Cabinet
Photo - 6 January 1958