With deep sorrow, I must report that we lost our good friend and fellow traveler on Tuesday, 29 July 2003 at 1600.
Godspeed, my friend.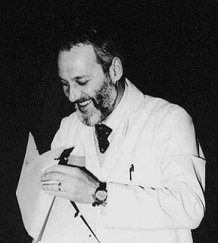 Herbert J. Woodend, 1943 - 2003

Herbert John Woodend MBE died on 29th July 2003. Herb, Bert, or Herbie, as he was known to all his friends fought a 12 month battle against cancer.

For the last 30 or so years Herb was the Custodian (Curator) of the British Pattern Room. First at Enfield Lock and and later in Nottingham when the collection was moved with the factory. Herb retired in 2002 after the government decided to move the collection to the Royal Armouries in Leeds - rather than dumping it into the North Sea as had been previously proposed.

Herb re-created the Pattern Room collection from a small British only collection, to weapons, ancilliary equipment, manuals, and books from all countries. The Pattern Room became world famous, for being the best and most comprehensive in the world.

It was for his utter dedication that he was awarded Member Of The British Empire (MBE), presented to him by the Queen in 1995. Other official recognition came as the Freedom Of The City of London and election to the Worshipful Company of Gunmakers in 1999. Herb was made an Honarary member and Vice President of the Historical Breechloading Smallarms Association in 2000, and awarded a Medal of the Arms and Armour Society.

Herb, to all those who knew him, was a complex person; generous, sly, devious, fastidious, paranoid, cantankerous, loveable, witty and Great fun to be with. He was always late with no sense of time or urgency for planes or ferries, much to the exasperation of those who he was with. He was a very private person who shunned publicity but loved his daughters and family.

Herb was born in Northern Ireland at Kilrea, Londonderry on 28th April 1943. He was educated locally at Coleraine Academical Institution, where he attended from 1954 until 1960. His father Bertie and Uncle Tommy had the local garage, but it was Tommy that started the HERB going. Tommy repaired guns as a side line so Herb was taught to repair and taught to shoot guns. Herb was a quick learner, and spent his early days sketching detailed drawings of odd guns,initiating the collecting bug. Very soon the house started to fill with guns, cartridges, and militaria.

As he grew up, his desire became to work with guns and not in the family garage. So in 1963 he came over to London to attain his dream, with his then girlfriend Evelyn. They married in August 1964, but sadly divorced 20 years later.

One of Herbs first ports of call in London was to the Royal Small Arms Factory (R.S.A.F.) at Enfield Lock and the Imperial War Museum to try to find a job. As there were no immediate vacancies, he worked in garages to make ends meet. He visited the R.S.A.F. regularily, to remind them that they needed to employ him. Eventually in 1964 they offered him a job in the office - a starter. That lead to the post of Assistant to the Custodian of the Pattern Room. Herbs regular badgering of people got results. In 1967 Herb took over the job as Custodian of the Pattern Room. As the Custodian/Curator Herb was outstanding. He gathered together all the arms that used to be in the early collection - but had been dispersed due to wartime conditions. He actively sourced, with limited funds that were made available to him, weapons from all over the world out of other museums, private collections, dealers, friends and police amnesties.

Over time, he transformed the Pattern Room into a collection that comprehensively covered the worlds production of military and civilian small arms, and machine guns spanning the last 150 years or so. The pattern Room collection was available for military weapon designers, police, forensic science services, researchers and historians alike. Herb also had a vast knowledge on all the accessories that were necessary to service the weapons, ancillary equipment, sights, mounts, feed systems, belts, manuals and the cartridges; their loads and uses.

Herb also built the library collection amounting to tens of thousands of documents, manuals and books. It has now been recognized as a National Archive.

There are very few new books on arms and ammunition published over the last twenty years that have not had grateful acknowledgements to the R.S.A.F Pattern Room and Herb Woodend. Many would not have been written but for his accurate research and documentation.

During the various British firearms amnesties, Herb was reticent about advising other museums on scarcity and rarity values, in order to ensure that the Pattern Room ended up with the "goodies" to increase the R.S.A.F. collection. He would then later take great delight in ensuring the opposition knew what they had missed to the Pattern Room.

In the later years, Herb frequently travelled abroad in his quest for new items. He had access to most places all over the world: I do not not think there was a place that had not been "pilfered" by him for the R.S.A.F. collection!!

As an example of his meticulousness, while in the United States at a Machine Gun Shoot, he sorted through 2500 Russian Maxim Ammunition boxes, looking at the markings on the cloth belts. He was triumphant at the end with 12 fresh examples he had not seen before. What fun!!

Wherever Herb travelled around the world there was always a house and bed for him to stay, guns to be inspected, clips and belts to be appraised, ammunition to be discovered and friends revisited. Herb, with his dry Irish wit was always a pleasure to spend time with. He had an incredible memory and encyclopedic knowledge on a vast range of subjects, much to the chagrin of other contestants on pub quiz nights.

Most of all, he was a true friend to a large number of people. Those wno knew him were enriched by his company, his friendship and his willingness to share his knowledge. He will be sorely missed by all.

Herb is survived by two sisters; Joan and Helen, his ex-wife Evelyn, two daughters; Sarah (four children) and Arleen (three children).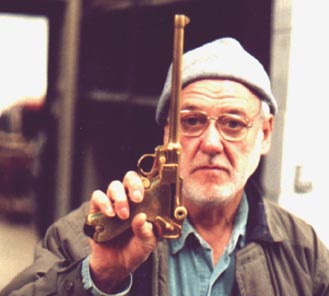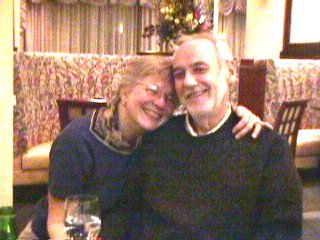 Herb receiving a little TLC from a lovely lady, Kathleen Curtis (Lew Curtis' wife).
Photo by Lew Curtis.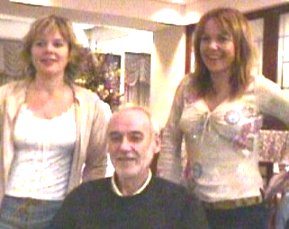 Herb with his beautiful daughters. (16 Feb 03)
(You've done well, Kid!)